2020 was a terrible year for everything except gaming
Gift experiences, not things. Generally speaking, it's a good mantra. But as we hunker down for a long, COVID-19 winter, there's a way to do a bit of both. Give the gift of video games—a socially distant form of entertainment and communication, and an excuse to get together with friends in something other than a Zoom room. We might not be able to hang together, but at least we can play together.
It helps that 2020 was an exceptional year for the gaming industry. Between Nintendo's Mario Kart Live: Home Circuit, which proved a gaming giant could finally nail augmented reality, and the sleek industrial design of the new Xbox Series S, gaming has proven it's a category of maturity that's still open to experimentation.
Here are some of our favorite gifts for the gamer, or soon-to-be gamer, in your life. Is it minimal design? No way. This stuff is overt, glowing, and vying for your attention. It invites play.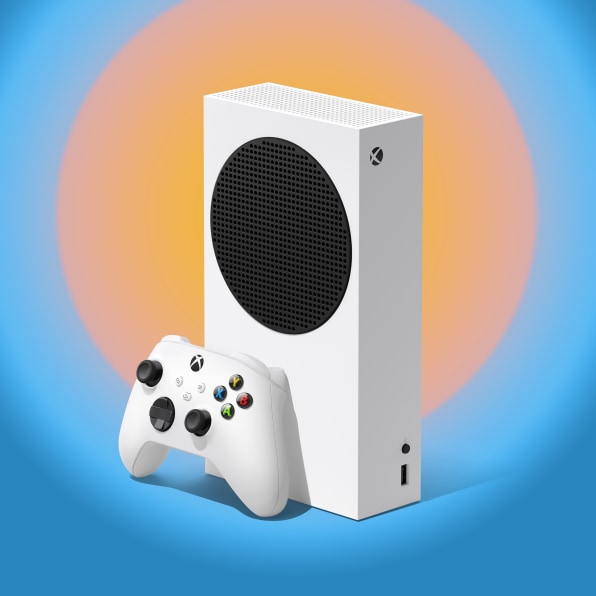 Xbox Series S
If Dieter Rams designed a video game console, it would be the Xbox Series S ($299). This system is a celebration of simple geometries on the outside, but on the inside, it has the newest technological architecture that lets you switch between games as easily as switching channels on your TV. It's also relatively inexpensive. You can buy a Series S through $25 monthly installments, bundled with Microsoft's own Netflix-of-video-games service it calls GamePass. There's simply no more accessible way to play a whole lot of modern games than this deal. The catch? The Series S—like the pricier Xbox Series X and Playstation 5—is sold out everywhere. Though you should see limited quantities pop up here and there leading up to the holidays.[Photos: Razer]
Razer Kishi
Okay, so say you bought into the Xbox platform and want to take games on the go. Microsoft allows you to stream games from your console or even the cloud with a new service called Xcloud. The problem is, smartphone touchscreens stink for console gaming.
A great solution is the Razer Kishi ($100). It's a controller that wraps around your iPhone or Android device, turning it into the ergonomic equivalent of a Nintendo Switch. Sometimes you can buy these tempting smartphone controller add-ons, only to realize they don't really work because they haven't invested in the software side to guarantee compatibility. But the Kishi does. It works right out of the box with Microsoft's Xcloud, Google's Stadia streaming service, and the popular mobile game Fortnite. Oh, and this controller doesn't ever need to be charged. So whenever you want to play, you just plug in the Kishi and go. (Don't worry, the battery drain on your phone is pretty insignificant.)[Photo: Nintendo]
Mario Kart Live: Home Circuit
I cannot think of a more gleeful moment I had playing games this year than the hours spent with my children playing Mario Kart Live: Home Circuit ($100). For the Nintendo Switch—which is, incidentally, the only major console you may actually be able to buy this year, since it's turning three while Sony and Microsoft's new systems just hit the market—Mario Kart Live tasks you with driving a real, radio-controlled kart through your home. As you look at the screen, your living room is transformed into a zany racetrack, complete with banana peels, goombas, and all the Nintendo tropes you know.[Photo: Oculus]
Oculus Quest 2
Virtual reality is still a bit of a gimmick, but there are a few excellent games that make it worthwhile. Wander lets you travel anywhere in the world, virtually. Superhot VR challenges you to be a real-life John Wick, fighting bad guys in immersive slow motion. Supernatural will get you to lunge and squat at the base of a volcano. If you're interested in delving in, the Oculus Quest 2 ($299) is the best way to do so. This system is completely self-contained—no wires or PC needed. It sets up in moments and operates flawlessly. Oh, and if you want to play PC-based VR games, the Quest 2 can plug right into a computer to do that, too.[Photo: Logitech]
Logitech G733 headset
Gaming headsets are known for their weight and bulk. But the ex-Nike designer Tiffany Beers took a different approach to her first product with Logitech, emphasizing comfort and expression. The G733 ($130) is like a performance sneaker for your head. With a maximalist celebration of programmable, rainbow LEDs, the option of a surprising, purple colorway, and 29-hour battery life, the G733 is challenging the conventions of wearable electronics. One catch: It's not Bluetooth. That means the included wireless dongle will plug into computers and phones/tablets with a USB adapter, but if you own any particular game console, check into other options.[Photo: Herman Miller]
Herman Miller gaming chairs
While a chair may seem like an odd gift for a gamer, chairs—particularly race-car-style chairs—have ballooned in popularity during the Twitch era because so many people are sitting for hours on end, playing. Instead of trying to look like Speed Racer, we'd suggest Herman Miller's first official gaming chair ($1,500) instead. Why is it a good chair for gamers? Because it's a good chair for everyone. The design is based upon the company's Embody chair, originally built for office work. Teaming up with Logitech, Herman Miller revamped the fit and finish, while updating the chair to reduce the pressure on your sit bones. If the $1,500 price is too daunting, Herman Miller also offers a $725 gaming version of its Sayl office chair, complete with the option for mix and match colors.[Photo: Wahoo]
Zwift/Wahoo virtual cycling
I've tried countless fitness "games" in my day, but the only one I've stuck with is Zwift, which has turned me into a lean, mean, cycling machine. For $15 a month, you can join other cyclists (and runners) online, who appear in a shared world alongside you. No need to make friends or small talk. You can simply work through exercise programs while pushing your way up virtual mountains or through Central Park. How do you get your bike online? The Wahoo Kickr Snap ($500) or Kickr Core ($899) can hook to just about any bike to not just measure your power but simulate the resistance of hills. Wahoo equipment was more or less impossible to get in the early pandemic. Now it's back in stock, and in plenty of time for Zwift to become an Olympic sport.
Images